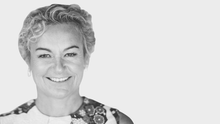 Anna has over two decades experience in the Wanaka property market and is considered one of the area's most trusted top performers.
Buyers seeking their first home,  families, retirees and new-comers to the area as well as businesses and developers all benefit from her commitment to clients and real estate expertise.
Communication, honesty and expertise are qualities her clients value, resulting in industry recognition and achievements such as the Elite Agent award representing the top performing agents in the Industry within the Ray White International Group.
Loving Wanaka and the outdoor lifestyle it provides since moving here in the early 1990's, Anna is a skier, long-time member of the tennis club, and is a patron of the Festival of Colour.  Most importantly as a Mum to her two young kids the Wanaka area remains the ideal place for her to raise a family.
Anna is the Licensed Agent for the Company and Partner
Agent Reviews
Trudi Pryde & Mike Young

It was such a pleasure working with Anna - from initial discussions through to the sale of our property, Anna was so helpful, informative and professional. Her advice and knowledge of the industry gave us the best opportunity for a great result, and she made the whole process easy for us. We would definitely recommend Anna and the Ray White Wanaka team.